It's a memory that all Saint-Etienne would like not to have in their memory. This evening in July 2020, all supporters of the Greens had to be behind their screen, a global pandemic requires. It was an event that rarely happens now: a cup final for ASSE. But this evening, which could have been magnificent, quickly turned into a nightmare. And for good reason, Loïc Perrin, who was playing the last match of his career, left his teammates prematurely, in tears after a big defensive intervention on Kylian Mbappé. Two and a half years later, the referee of the meeting Amaury Delerue, now retired, returned to this episode which marked his career as a referee.
This Tuesday evening, the streamer and youtubeur Zack Nani, whose main fault is to be a Lyonnais supporter, received in his very good show "Zack en Roue Libre", the former international referee Amaury Delerue.
Asked about the anecdotes that marked his career as a referee, Amaury Delerue decided to retain 2 anecdotes, "one funny and one that challenged him". The 2nd therefore concerned Loïc Perrin and the final of the Coupe de France 2020.
From a simple yellow card to a VAR call and red
Amaury Delerue: "And the second that challenged me was, Parisians and Saint-Etienne residents remember, the final of the Coupe de France that I refereed in 2020. The return of post-covid professional sport, the first professional match, Stade de France. Capacity of 5,000 spectators. Loïc Perrin's last match? Yes, that's the story I'm going to take you to."
"What happened to Loïc Perrin who is a good guy, with whom I shared many many matches… Everyone had announced, including him, that it was his last match . He is playing in the Coupe de France final, he is marking Kylian Mbappé, you know it, you are anticipating it. What is potentially happening? It happens that if ever there is a clash, Loïc Perrin central defender, you can quickly be exposed to the fact that he is the last defender, to the fact that he is overwhelmed and that he cuts Kylian etc… "
"35th minute of play, big tackle from Loïc Perrin on Kylian Mbappé. I see the first leg taking the ball but I see that it's really committed, I'm going right away, (card) yellow. Crowd, you revere the images, it's crazy what's going on, riot… It's an action where I put 6 yellow cards at the same time. Including on the bench, a little Italian who was a substitute.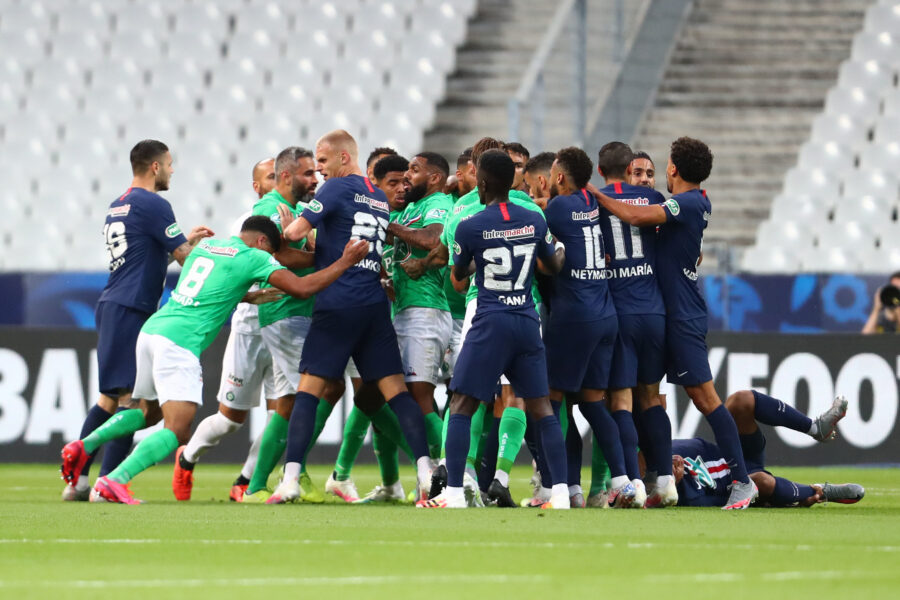 A real challenge for the referee
"And obviously, call from François (Letexier) on the Var who said to me "Amaury comes to see". And there, from the moment he says to me "come and see", I begin to project myself on the fact that if I change the yellow to red, it's the end of Loïc Perrin's career on a red card. And once I go to see the images, and I see that it's red without any possible discussion, the second leg had bent the ankle, I mentalize directly that when I turn around, the people of Saint-Etienne will come to see me, maybe to be that I would have done like them, saying to myself: "Mr. Delerue, what you are going to do, you cannot do it, you have no heart, it is not possible…". Frankly, he can't end like that, except that my job as a referee is to be a challenger and to respond, saying that sports justice is "the image showed red, so it's red. ". And if you find the image, I go 50 meters, I go towards Perrin who begins to understand, all the people of Saint-Etienne accompany me saying "don't do that, don't do that", and it's red. That's one of the two anecdotes that mark my 10-year career in L1. »
Also read: Has ASSE distorted the championship with its transfer window?